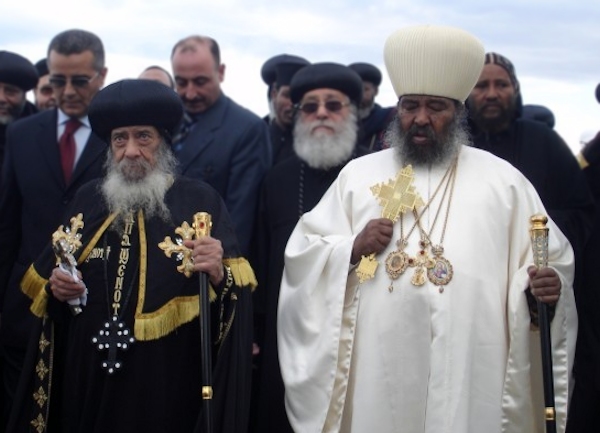 Patriarch Abune Pavlos, with Pope Shenouda of the Copts (left)
Fr John Salter, chairman, writes in
Chrysostom
, Advent-St Nicholas 2012:
Following on the death of Pope Shenouda was the death of the Patriarch Pavlos of Ethiopia. On the feast of Timcat (Epiphany) some years ago, I visited Ethiopia to see the priestly dance which is performed on that feast day, among other festivals, by clerics specially assigned to that ceremony. I
attended a Patriarchal Liturgy celebrated by His Holiness at Haile Selassie Cathedral (Holy Trinity) in Addis Abbaba, at which he blessed thousands of gallons of water and also took the wedding of a young couple. At the conclusion of the Liturgy, once His Holiness had left his throne, a horde of
young men rushed forward to kiss the place where he had sat, such was the devotion to his person. The Patriarch then took up a hose and squirted the congregation with large quantities of holy water.
Later in the week I had an audience with His Holiness, at which I was surprised that he used a lot of American expressions such as ―Shucks‖ and ―Gee Whizz‖. He had been in exile during the reign of the Communist Dergue and had picked up these expressions in Princeton. He told me that on his visit to London to celebrate the liturgy in Christ Church, Down Street, Mayfair, an Anglican church, then used by the Ethiopian community in London, he had had shoes thrown at him by members of a tribe other than his own. He said the police had done nothing to prevent this. I told him that perhaps the London bobbies had thought it was part of the liturgy! Fortunately he was greatly amused at this suggestion. His Pontificate was not an easy one and he had to plough a difficult furrow between the government and the clergy of other tribes..
Memory Eternal !
At the time of writing Archbishop Nathaniel of Arssi is acting as Patriarch, supported by members of the Holy Synod. These are Abune Timotyos, Abune Gabriel, Abune Estifanos, Abune Lukas, Abune Samuel, Abune Matewos and Abune Abrham. The election of the new Patriarch has to take place within 80 days of the death of Abune Pavlos.