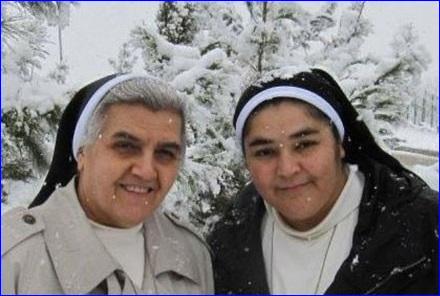 Baghdad (Agenzia Fides) - On the afternoon of Monday, July 14 the two Chaldean nuns and three young children - two girls and a boy - who were seized on June 28 last in Mosul, were released. Their captors were linked to the Islamic State of Iraq and the Levant (ISIL, Sunni jihadists linked to al-Qaeda). The five - sources of the Chaldean Patriarchate of Baghdad confirm - left Mosul, and returned to Dohuk, in Iraqi Kurdistan. "Sister Atur, Sister Miskinta and the three children are doing well", reported the Patriarch of Babylon of the Chaldeans, Louis Raphael I Sako to Fides Agency, "and their return to freedom is a sign of hope for all, that comforts souls in this difficult period".
The Primate of the Chaldean Church reports to Fides significant details on the five days spent in the hands of those who had kidnapped them: "The nuns and the children" says Patriarch Louis Raphael I, "were kept in a house, they were given food and were not treated badly. During those days they prayed a lot. They recited lauds, vespers and the rosary for their own liberation and for peace in Iraq. We also found out that during the conversations with those who had kidnapped them, the nuns answered with serenity and courage on all the issues raised, giving reason for their hope". The Patriarch confirms that no ransom was paid for their release. The captors took their car, and ransacked the home for orphans run by the nuns.

Due to the offensive of the Sunni insurgents led by Islamist militants of ISILl, which began on June 9, the nuns and all the guests had left the city and had found refuge in the city of Mosul Dohuk. (GV) (Agenzia Fides 15/07/2014)
Source:
The Chaldean nuns and the children released, "a sign of hope for all" - Fides News Agency
AINA also reported, 14 July 2014
(AINA) -- The Assyrian website
ankawa.com
is reporting that five Assyrians, including two nuns, have been released. Chaldean Patriarch Louis Sako said via telephone the victims are now in the city of Dohuk (Assyrian Noohadra) and in good health. No ransom was paid for their release.
The two Chaldean nuns from the Daughters of Mary Order, Sister Miskintah and Sister Utoor Joseph, as well as Hala Salim, Sarah Khoshaba and Aram Sabah were kidnapped on June 28 (AINA
2014-06-30
).
Sisters Miskintah and Utoor managed an orphanage for girls in Mosul, in the Khazraj neighborhood near Miskintah Church. After Mosul fell to ISIS, the two nuns brought the orphaned girls to the city of Dohuk for safety. The Nuns had returned late Saturday, June 28 to Mosul, accompanied by Hala, Sarah and Aram, to inspect the monastery and were kidnapped. It is believed the kidnappers were Muslims.